Bienvenue, Bem-vindo, ¡Bienvenido, Willkommen, Witaj, Isten hozott, Welkom, Fiţi bineveniţi, Hoşgeldiniz, Välkommen, Benvenuto, Tervetuloa,Velkommen,Vitajte, Dobrodošli, Καλώς ήρθες, Vítejte, Velkommen, Dobrodošli, Fáilte, Sveiki atvykę, Добре дошли, Velkomin, Laipni lūdzam, Wolkom, Moin moin, Grüß Gott
Legalize Cannabis in Europe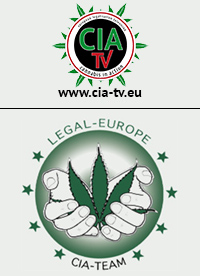 OH NO !!
It is really sad that your country is not a part of Legal yet.
But you can help to change that. Gather freinds together and create a website regarding the legalisation of cannabis in your country.
Together we will achieve our goal - the legalisation of cannabis in europe.
If you are interested, get in touch with webmaster at legalize.eu
or use our
contact formular
.
---
OH SCHADE !!
Wirklich schade dass Dein Land ("Automatik") noch nicht aktiv dabei ist!
Du kannst aber helfen dass zu ändern, indem Du Vereine oder Organisation in Deiner Nähe aufmerksam machst.
Du kannst Dich aber auch mit Freunden oder Aktivisten zusammen tun und eine gute Legalisierungsseite für dein Land erstellen bzw. aufbauen oder übernehmen. Zusammen sind wir Legal in Europa!
Melde Dich bei Interesse unter: webmaster at legalize.eu
Oder melde Dich online mit unserem
Kontaktformular
bei uns.